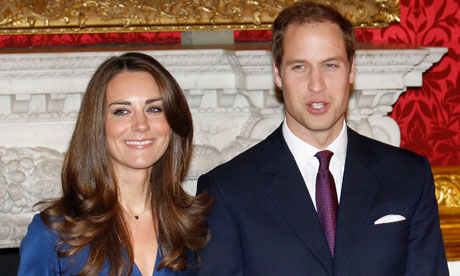 The constitutional anoraks are out in force wondering at what Royal Duchy, Prince and Princess William of Wales will get upon marriage. There is little precedent. There has not been a male second in line to the throne in William's position since Prince Albert Victor of Wales was the eldest son of the Prince of Wales (future Edward VII) and was created Duke of Clarence and Avondale from 1890 until his early death in 1892 (his brother became George V, after being Duke of York).
There are other past Royal Dukedoms for consideration:
Albany
Albemarle
Bedford
Cambridge
Connaught
Cumberland
Hereford
Kendal
Ross
Sussex
Windsor
Albany and Cumberland are probably out because they could be revived on the application of heirs whose predecessors had their royal titles suspended in 1919 for being on the wrong side of World War I.
The Duchy of Cambridge is popular with the pundits and many thought that the Earl of Wessex would get this title, they have therefore deduced that he did not get it because it was being saved for William.
The last Duke of Cambridge was the eldest son of the 7th son of George III and he died in 1904. He was C in C of the Army for 39 years and you can find his august statue in Whitehall: