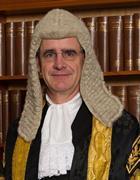 Lord Justice Briggs has published a very interesting report:
"Civil Court Structure Review - Interim Report"
It is full of alarming ideas:
1. Banning lawyers from claims worth less than £25k by creating an Online Court (the OC) to which all shall have easy access.
2. Banning judges from routine judicial work - transferred to the civil equivalent of Justices' Clerks - the Case Officer.
3. Banning of regional cases from London - keep them all in the regions with more civil only local judiciary (DJs and CJs) i.e. stop them being sucked into crime and family.
4.Banning medium value civil claims from the High Court - so High Court judges can go and sit in the Court of Appeal (which could be reduced to just the one LJ per Court like the Crim Div) The report mentions Senior CJs sitting in the C of A Civ Div - steady on a minute!!
5.Banning the QBD from the Rolls Building. so that the TCC, Commercial Court and Chan D roll into one combined business list?
6. Banning oral renewals of refused permission to appeal paper applications - they are just too expensive!
7. Banning county court multi track final decision appeals to the Court of Appeal - first stop the High Court with the second appeals test protecting the C of A from County Court riff raff appeals. Bloody good idea this -
see the recent decision of PI cases and CRU produced by a C of A composed entirely
of former practitioners who could put what they know about PI and CRU on a very small sized postage stamp...quite expensive process of appealing to Supreme Court to put that house back together....
8. Banning the Employment Tribunal and EAT - lump it into the County Court whilst moving some of the housing jurisdiction of the County Court into the Property Chamber of the FTT (now that is a good idea).
Basically, shifting the deckchairs around on the deck of civil justice until someone provides some cash for some new judges, some new courts and some new IT. All in the finest make do and mend traditions of the justice system....
Went to a Mags Court last week - sweet Jesus - now that is a system on its absolute knees - absolute chaos all round.
In other news there is a new crop of Deputy High Court Judges (e.g.
here
) and a new President of the EAT:
Simler J, with Holgate J
off to preside over the Lands Chamber of the Upper Tribunal (what we used to call the Lands Tribunal!) Simler P better enjoy herself whilst it lasts - until the EAT is abolished....