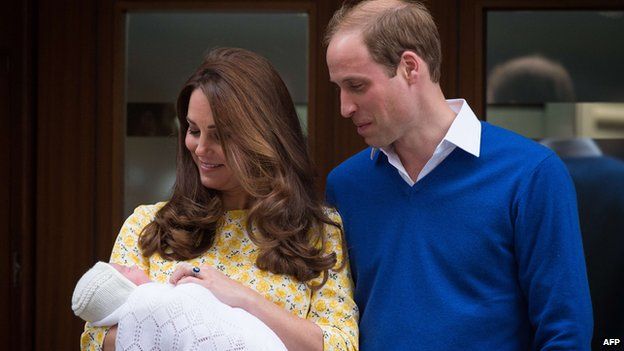 Welcome to the first member of our ruling house to take advantage of section 1 , Succession to the Crown Act 2013, which the Lord President of the Council (or Nick Clegg for short) signed into law on 26.3.15 as one of his last executive acts in that Government (or ever?) He actually signed the Succession to the Crown Act 2013 (Commencement) Order 2015 bringing section 1 into force as of 26.3.15.
Succession to the Crown not to depend on gender
In determining the succession to the Crown, the gender of a person born after 28 October 2011 does not give that person, or that person's descendants, precedence over any other person (whenever born).
Which means that the new Princess of Cambridge (not the first, check out the
Grand Duchess of Mecklenburg-Strelitz -
can't find a Princess Charlotte of Cambridge - but did find one of Wales, which is what she will become if she does not marry before her father becomes Prince of Wales
- she would have come Queen Regnant instead of Victoria, but died aged 21
)
will be 4th in line to all 16 thrones inhabited by the UK Sovereign regardless of the gender of any further Cambridges:
The action of bringing the change into force was repeated around the 16 realms on 26.3.15 - e.g. Australia:
Succession to the Crown Commencement Proclamation 2015
I, General the Honourable Sir Peter Cosgrove AK MC (Ret'd), Governor‑General of the Commonwealth of Australia, acting with the advice of the Federal Executive Council and under items 3 and 5 of the table in subsection 2(1) of the Succession to the Crown Act 2015, fix the beginning of 26 March 2015 by United Kingdom time as the time and day on which Parts 2, 3 and 4 of, and Schedule 1 to, that Act commence.
This instrument commences on the day, and at the time, it is registered.
By His Excellency's Command
Curiously Canada assented to our Bill rather than make their own, because they didn't think that they had any laws of succession of their own.....although I gather their is legal action....
2.
The alteration in the law touching the Succession to the Throne set out in the bill laid before the Parliament of the United Kingdom and entitled
A Bill to Make succession to the Crown not depend on gender; to make provision about Royal Marriages; and for connected purposes
is assented to.